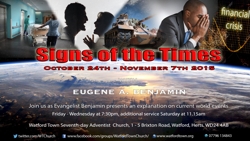 Signs of the Times at Watford Town Church
It was like an Oasis at Watford Town SDA Church. In the midst of ISIS bombings and killings. Child abductions, political corruption, the pope visiting the United States and so much more. Hearing the chords of Signs of the Times struck up by the magnificent praise team meant for the next hour and a half one could lose themselves in the well informed expose on what was going on in the world. Eugene Benjamin affectionately known as Elder Benjy carefully and with the use of great visuals was somehow able to bring the Bible right into today's craziness and make it relevant. Starting on 24th October and for the following two weeks concluding on 7th November the audience was riveted. Elder Benjy wanted the audience to know and understand that they were deeply loved by God and nothing could separate them from His love. He also wanted us to see how relevant the Bible was for today and show how it proved Gods words to be true. Each night a call was given to re-commit or simply commit to Christ. Each night many came forward realising their need to be in the presence of their creator and to be surrounded by the love and fellowship of the people in church.
Paul Lee and Nancy Menyere were the main singers for the event and they both praised God and lead in worship through powerful presentations in music.
At the end of the campaign praise God eight souls were given over to Christ. The whole church was re-energised and are looking forward with more expectancy to the return of our Lord Jesus Christ.

For full description of this joyous event, please see the Baptism Report

We also have a report from our Agape Feast